Details
Currency Pairs:
EURUSD, GBPUSD, EURCHF, EURGBP, GBPCHF, USDCHF ,
Timeframe:
M1 ,
Price:

$175
,
License:
1 live account,
NFA compliance:
Unknown,
Refund policy:
60 days,
AdvancedScalper Website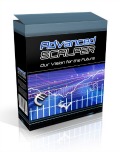 Strategy: The strategy of AdvancedScalper is not known at this time, when I figured it out this will be filled in.
Performance


Not an official vendor account of AdvancedScalper, it's better than nothing. Warning, FXblue.com is not a legitimate 3rd party verification site, so there is no promise the results are evenlegit.
Demo broker: Excel Markets
Start date: February 3, 2014
No customer accounts of AdvancedScalper could be found.
Pros & Cons

Pros
It has a 60 day money back guarantee refund policy.
Cons
No official vendor account on Myfxbook
$175 price tag is quite high!
AdvancedScalper Review

This can not be supported! AdvancedScalper is too much money for the poor results it gives. We haven't classified this as a scam yet. If you have experience with AdvancedScalper then please leave a rating and leave a comment with your findings.