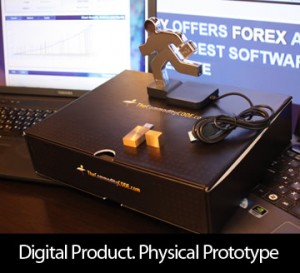 A.M.B.E.R. The Commodity Code is a new piece of automated forex trading software being released on July 17th 2012 by the makers of Fap Turbo. This is an actual physical product not just a download, so shipping and waiting will be involved. I wonder how that will play into any refund policy they might have.
It will be sold on the Digibank payment processor with the following 3 license plans and unknown refund policy.
Private Trading License (trade amount capped at 500k) for USD 1,997
Fund Manager License (trade amount capped at USD 5,000,000)  for USD 9,800
The Bank Manager License (trade amount capped at USD 10,000,000) for USD 19,890
All plans feature installment payment options (3 month and 12 month for bank manager) as well as.
This new piece of automated software from them seems to be something completely new trading oil, gold and silver instead of your usual currency pairs.
Results
Oil
They claim to have a real money $ 100,000 account , that grew to over $ 170,000. The amount of time is yet unknown but full stats are claimed to be disclosed including low draw downs and past trading months soon. These results will be made live on July 11th, 9 AM EST TIME.
Silver
Here they claim to have a $100,000 real money account that is now up to $297,393.70, with publicized live results to be shown prior to or on launch date. These results will be shown on July 12th, 9 AM EST TIME.
Gold
Gold is considered their "flagship" module with this software making a gain of 570% on another $100,000 real money account. These results will be revealed on July 14th, 9 AM EST TIME.
That's $300,000 in real money they have apparently forked out for live testing of their new robot. If all holds to be true, that is some serious self-confidence in a system. That or they've just made so much from Fap Turbo that risking 300k is nothing. Regardless, it's still impressive and if all these results hold up to be real then I'm sure many will be able to look past the hefty price tag. I plan to have my own results of this one on this very page for you all to follow when this thing is released to keep an eye out for that.
Strategy
The only thing we know about the strategy of AMBER is that is trades Oil, Silver and Gold, with Gold being it's go to money maker. Everyone knows what Gold and Silver have done over the past few years so you have to wonder if that plays into their strategy at all? I would be pretty nervous anytime it opened a sell order for either these days.
Remember if you are going to try A.M.B.E.R. The Commodity Code robot that you fully understand how the system works before running it live. I always recommend to use your refund period to test it thoroughly for at least a month. If your results are above satisfaction, then and only then should you consider taking steps to trade it live with your hard earned money. Just because a website says their system will make $xx,xxx a month doesn't mean it's going to. So if you are not satisfied, do not hesitate to request your money back. If you are interested in more information on this forex product then check out the link or any comments below.
If real user reviews of AMBER Commodity Code are what you are looking for, then check the comments below. They are real customer experiences with this product. If there are no comments, then be sure to come back frequently and check for updates as our review and discussion of this product continues to grow.
If you have experience with A.M.B.E.R. The Commodity Code EA or know something people might find important please feel free to share in a comment below. It may help someone save or make a lot of money so don't hold back. Because of the influx in forex robots and forex systems being released right now, our reviewing as been slowed but our user comments have not. Make yourself at home and write a comment, or ask a question for the community to discuss. You will be surprised the information and knowledge you may unveil.
If you want to submit a forex trading product or broker that is not listed on our site, please use the Submit A Forex System form or Submit Your Own Articles. There are many private and underground forex robots and systems out there they I just don't have the time to look for. So if you know of any, or a place to find them please feel free to share and I will make a post about it for the community to discuss.
Ok guys lets get the ball rolling, here at ForexFBI we encourage our visitors to discuss your A.M.B.E.R. Commodity Code EA experiences, strategies, thoughts, whatever…
AMBER Commodity Code Rating
Obviously still way to early to rate this one, but it does look like it has some serious potential bringing a few new things to the table. The fact that it's an actual physical product and that it trades Gold, Silver and oil may be refreshing for some, but the price tag may not!