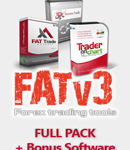 FatV3 is a package of forex tools being sold by an unknown developer for $90 on Clickbank. It comes with a 60 day money back guarantee.
This product is an array of trading tools consisting of:
Trader On Chart – This basically just simplifies trading by sitting on your charts and making your trades a one click process. You set the stop loss, take profit and trailing stop in the paramaters and you either click red or green to open a sell or buy automatically with those settings.
FAT Trade Manager – FAT Trade Manager is the Expert Advisor (EA) for the MT4 platform that will help you open trades easily with a simple keyboard key shortcut like Alt+4 for BUY trades and Alt+5 for SELL trades. It is called manager because it will manage your trade after it is opened using this software.
Renew Trade – With the Renew Trade application you can re-open any marker or pending order that is already closed. To re-open a trade you only need to put the exact number of the closed trade in the script inputs window and it will be re-opened as a pending order at the same price, stop loss and take profit levels.
Results
No results for this, it's just a product to simplify your manual trading.
Strategy
The only thing that has it's own strategy to an extent is the FAT Trade Manager but it's as basic as EA's come.
If you're a manual trader this may be something for you, but I'm willing to bet you can find something similar to this for free with a lot more features.
Remember if you are going to try FatV3 that you fully understand how the system works before running it live. I always recommend to use your refund period to test it thoroughly for at least a month. If your results are above satisfaction, then and only then should you consider taking steps to trade it live with your hard earned money. Just because a website says their system will make $xx,xxx a month doesn't mean it's going to. So if you are not satisfied, do not hesitate to request your money back. If you are interested in more information on this forex product then check out the link or any comments below.
If real user reviews of Fat Forex Profits are what you are looking for, then check the comments below. They are real customer experiences with this product. If there are no comments, then be sure to come back frequently and check for updates as our review and discussion of this product continues to grow.
If you have experience with Fat V3 or know something people might find important please feel free to share in a comment below. It may help someone save or make a lot of money so don't hold back. Because of the influx in forex robots and forex systems being released right now, our reviewing as been slowed but our user comments have not. Make yourself at home and write a comment, or ask a question for the community to discuss. You will be surprised the information and knowledge you may unveil.
If you want to submit a forex trading product or broker that is not listed on our site, please use the Submit A Forex System form or Submit Your Own Articles. There are many private and underground forex robots and systems out there they I just don't have the time to look for. So if you know of any, or a place to find them please feel free to share and I will make a post about it for the community to discuss.
Ok guys lets get the ball rolling, here at ForexFBI we encourage our visitors to discuss your Fat Forex Profits experiences, strategies, thoughts, whatever…
FatV3 Rating