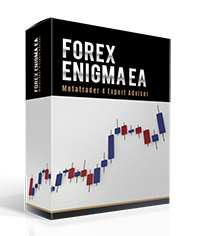 Forex Enigma is a new EA on the market with big claims, but let's dig a little deeper to see what we are really getting. They claim it is a 3 in 1 trading ea with scalping, trend and half grid with "a news filter which greatly improves the efficiency of trade". Putting this much emphasis on a basic news filter (which any good EA should have by default) is already a concerning red flag, but lets continue.
It appears to only work on EURUSD, running on H1 timeframe. They claim it will be profitable on any MT4 broker. The claim to have many market leader innovations and that Forex Enigma EA has a unique ability achieve consistent profit month after month. That is all they tell us, that is literally it. They then have some buttons to buy, a contact form and a page for affiliates.
They provide a trading account from FX Blue and two different backtests of a high risk and low risk setup. Backtests are as meaningless as tits on a bull moose so lets investigate this account they have running on FX Blue.
Results
Looking through their trade history, I am already seeing red flag after red flag. Their first trade(s) were on Feb 24th 2020 where it opened 48 buys at 0.01 lots each all within a total of 1 minute and 30 seconds. It appears as though these trades were opened as fast as their broker allowed, and stopping at 48 seems a bit odd. Why did it need to open 48 separate trades this fast at the same price and then close them all at the same price? Why not just open one 0.48 lot trade? This brings up serious coding algorithm concerns that this Enigma EA may not be very well optimized, and potentially dangerous because of the fact how it opened this many trades seemingly out of control. All the trades closed within 3 hours with a 14 pip profit each. There was however no SL on any of the trades, so hopefully they use some kind of other metric/indicator for a SL.
The biggest losses are a 217 pip loss, and a 202 pip loss, I would assume these would be from the trending strategy. The biggest winning trades were only 117 and 105 pips. The scalper seemed to be the main source of trading for the first month, with the trending being more prominent in recent months.
Summary of the results show a peak drawdown of around 35% where the trades well held long enough to luckily turn a profit. It seemed as though the trades at the time (March 27th) were going to be held no matter what whether it meant the account blowing. I really can't find another explanation as to why these particular trades were held so deep into loss.
Forex Enigma ea trades 3.3 times per day, with an 82.9% win rate but with it seemingly hanging on to losing trades like mentioned above I wouldn't trust that win rate.
The most important stat of these results is the very small sample size of 86 days of history. While the monthly return of 58% as of writing this is impressive, I have a funny feeling I will be updating this post in the coming weeks to comment about this account blowing. Time will tell I guess, but from 15 years in forex I can tell you that 50%+ per month from automated trading is not sustainable if you're not risking the entire account on every trade.
Price
1 real account with 1 demo account can be purchased for $149 with a 30 day money back guarantee, or 2 accounts for $199 or 3 accounts for $249. They use Click2sell.eu as their payment processor.
Forex Enigma EA Reviews
I could not find any actual customer reviews on FPA or anywhere else, if you have personally used this EA please feel free to describe your experience in the comments below.
Conclusion
If you're going to buy this EA, I would proceed with extreme caution and test it on demo account first during the refund period. I can not recommend this EA until I see much longer trading history of profitable results, 86 days as of this post just isn't enough! I wouldn't call Forex Enigma a scam, but there definitely appears to be some misconceptions here.