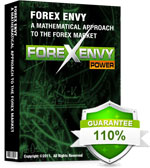 Forex Envy is a dangerous martingale EA. It's being sold through RegNow payment processor for $379 and then it looks like they charge $40 a month for 3 months afterwards.
Strategy
Forex Envy is a martingale EA that has been proven to be extremely dangerous. The team behind it can't even seem to keep a positive equity going with it for more than a month or two before wiping to $0 in the blink of an eye. I've seen them blow over a dozen different live accounts from Sep 2012 to Jan 2013.
Here is a quote from their site of how it all works:
We have found that every currency pair forms a unique pattern or "signature". ForexEnvy uses these unique signature patterns to create profitable baskets of trades that close to form a net gain. It is one of the few Expert Advisors whose live results match our back testing results. This is because it does not attempt to use "scalping" or high-frequency trading techniques that are unreliable in real trading conditions where slippage, re-quotes, latency, and broker manipulation are common place.
Results
They team over at forexenvy.com have been very sneaky with their results. Since i've been watching them since late summer of 2012 to early 2013 I have seen atleast a dozen different live accounts blown and tossed under the rug. They will then go open new cheap $20 micro accounts and start a fresh new myfxbook account for it, while deleting the old blown accounts. So for new users you would enter completely oblivious of the history of this EA. Well here is just a short list of accounts this thing has blown. On average they blow their account after about 2-4 weeks.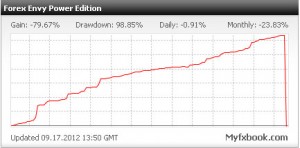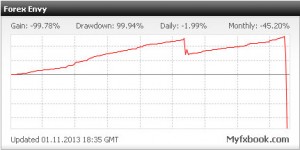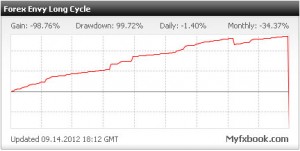 Refund Policy
You have 30 days to decide if this EA is for you. According to their sales page, if you follow their exact recommendations and still are not satisfied and lose money, they will refund 110% of your money back. So you would actually make $38 for trying their software but you may be required to show some negative trading activity while following their recommendations. Which shouldn't be too hard to do considering how many accounts the vendor themselves have busted.
Forex Envy Recommendations
Divide your forex investment capital into two halves.
Use 1/2 of your capital to fund an account with Forex Envy (Earnings Account).
Create a second account with the other half of your investment capital (Savings Account).
Transfer the funds generated by your Forex Envy account(s) into your saving account on a regular basis.
Continue this cycle indefinitely.
Conclusion
There are far superior EA's to envy, Forex Hacked being one of them. If you want an idea of the devastating effects this thing can have just go check out the donna forex thread on this thing. There are countless stories of users with blown accounts following the recommendations after just a few weeks.
Remember if you are going to try Forex Envy that you fully understand how the system works before running it live. I always recommend to use your refund period to test it thoroughly for at least a month. If your results are above satisfaction, then and only then should you consider taking steps to trade it live with your hard earned money. Just because a website says their system will make $xx,xxx a month doesn't mean it's going to. So if you are not satisfied, do not hesitate to request your money back. If you are interested in more information on this forex product then check out the link or any comments below.
If real user reviews of ForexEnvy are what you are looking for, then check the comments below. They are real customer experiences with this product. If there are no comments, then be sure to come back frequently and check for updates as our review and discussion of this product continues to grow.
If you have experience with Forex Envy or know something people might find important please feel free to share in a comment below. It may help someone save or make a lot of money so don't hold back. Because of the influx in forex robots and forex systems being released right now, our reviewing as been slowed but our user comments have not. Make yourself at home and write a comment, or ask a question for the community to discuss. You will be surprised the information and knowledge you may unveil.
If you want to submit a forex trading product or broker that is not listed on our site, please use the Submit A Forex System form or Submit Your Own Articles. There are many private and underground forex robots and systems out there they I just don't have the time to look for. So if you know of any, or a place to find them please feel free to share and I will make a post about it for the community to discuss.
Ok guys lets get the ball rolling, here at ForexFBI we encourage our visitors to discuss your Forex Envy experiences, strategies, thoughts, whatever…
Forex Envy Rating