Review of the Xtreme Pip Poacher EA by Drew Collins
WARNING: Xtreme Pip Poacher is a copy of Forex Robovore!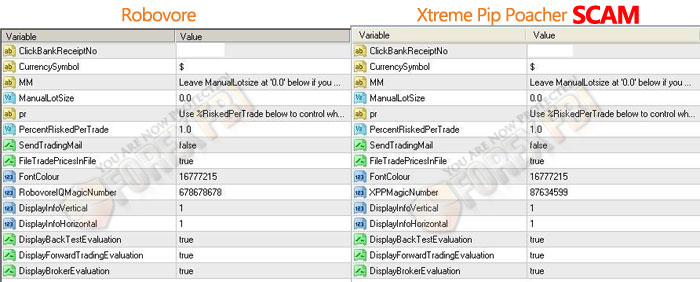 | | | | | | | | | |
| --- | --- | --- | --- | --- | --- | --- | --- | --- |
| EA Name | Currency Pairs | Timeframe | Strategy | ECN | 4&5 Digits | Take Profit | Stop Loss | Home Page |
| Xtreme Pip Poacher | EUR/USD, USD/JPY, GBP/USD and the USD/CHF | H1 | Unknown | Yes | Yes | Unknown | Unknown | Xtreme Pip Poacher  |
Performance (Extreme Pip Poacher EA Test Results)
License
Extreme Pip Poacher pricing and licensing is still unknown.
Strategy
Extreme Pip Poacher is developed by Drew Collins who claims to have tried over 550 systems and now discovered the holy grail. Curious to find out what this strategy actually is as his sales pitch doesn't really reveal much about his system, rather about systems that don't work.
Recommended Brokers
FX Open and Iam FX are two great brokers for running robots with their tight spreads and great execution time during all hours of the day.
Conclusion
Extreme Pip Poacher talks some trash about scalping and brokers manipulating it. While thats great and most people already know this (FAP Turbo anyone?). The sales video really threw me off as it seems like this guy is just trying to gain your trust telling you all the bad things brokers do. Most of us already know what brokers do especially with scalping so what gives. He also goes off on typical forex robot releases being over-hyped with fake results or manipulated backtests. Seems like he is preaching to the newbiest of the newbs in forex. He then claims to have found a glitch with brokers with slippage allowing you to see if your broker is trying to cheat you. The video goes on and on and on, and I closed it before he even got to talking about his system. Will draw a final conclusion with this thing is actually released.
  Safe To Buy?
NO!
Extreme Pip Poacher has NOT been approved for purchase because it is a complete copy of another EA.
Overall Rating