Forex Hacked Pro is a new membership option giving you access to not only their highly successfully original EA, but also their all new Pro EA as well. So with the Pro membership you're getting two highly profitable forex robots to trade on two seperate live accounts and unlimited demos. You can purchase the Pro package straight up for $329.99 or upgrade an existing basic account for $130. The Pro membership is being sold on Avangate, Paypal and Bitpay payment processors.
Remember, ForexHacked Pro is a completely new robot unique to the original. It is not an update to Forex Hacked 2.5 so you can't expect it to replace it and take over it's trades because it can't.

Strategy
This uses a similar strategy as their original Forex Hacked being grid based, but with the Pro version offering much more power adding a bit of scalping to the mix. The Pro version offers 3 unique strategies combined into one that can work together to help one another trade more effectively. You can turn each of these strategies on or off independently but it's recommended to run all 3. For most of the currency pairs the optimized settings use a much lower TP than what most of us are used to on the original version with a TP of 45 pips. Trades are closed much quicker with Pro so you get a lot of little profits, but you get them all the time. So with if you run all the supported currency pairs, you can expect 4-5x the amount of trades than the original version.
Supported Currency Pairs: EURUSD, GBPUSD, USDCHF, USDJPY, USDCAD, AUDUSD, EURGBP, EURCHF and EURJPY. The riskier pairs being EURJPY, GBPUSD, and AUDUSD.
Optimized Settings: Highly optimized settings are included for all of the listed currency pairs above, each having unique TP and PipStarter values as well as magic numbers so once you load the settings for each chart you don't have to go change all the magic numbers.
Turbo Mode: This feature is a great addition for pulling in more profits during flat, sideways markets.
Results
Due to the nature of the way FH Pro and most grid systems in general trade, you can expect near 1:1 results in comparison to demo account versus live account.
Here is a look at an early beta version running at extremely high risk. There has been many many upgrades, improvements and optimized settings since this test started. The 84% drawdown was back in it's first month where I had the risk turned to max to see what it could live through. More accounts will follow as the release to Pro nears.
Forex Hacked Official Real Money Account
Broker: FX Open
Account: $2000 Micro ECN/STP account running at 1:500 leverage
These tests are what you should aim for in terms of safe long term profits. Settings for each account are available once becoming a Forex Hacked member.
99% Quality Backtests
One of the very few systems of this nature that can shows profitable 5+ years backtests at 99% modelling quality across all major pairs.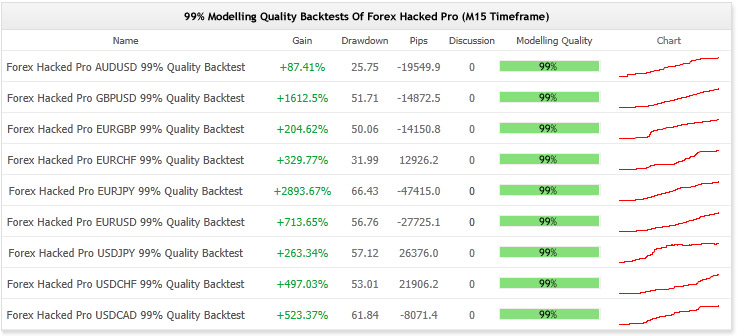 Conclusion
This is a beast of an EA that while may be fun to use, should be used with caution. While I will have no problem running this on a live account, I will be doing so at low risk and withdrawing my profits every month or so. I recommend everyone doing the same if you're trading this live. Let the fun begin!
Remember here at ForexFBI we encourage our users to comment freely about their experiences with this product including results, strategies, concerns and more. Please don't hesitate to leave a comment or ask a question.
15% Off Coupon (Ends In 48 Hours)
858B2D3A
Forex Hacked Pro Rating