Forex SSG is a new forex trading system being sold by an unknown developer for $87 on the Clickbank payment processor. It revolves around day trading and comes with a 60 day money back guarantee. It looks like you will receive a bunch of indicators with instructions, as well as e-mail signals to help you verify you are using the indicators correctly.
Results
On the sales page you will find screenshots like below outlining an example trade. That is all this should be taken as though, an example trade. They have no legitimate results to show otherwise and as such should be pursued with caution.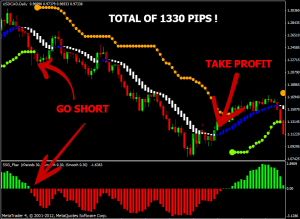 Strategy
Looks like they are going after market reversals with take profits as high as 1300+ pips and as low as 50. As for a stop loss I have no idea at this point what their exit strategy is. These screenshots can be deceiving though because anyone can go take a picture of a charts history and say well we would open a trade back here, and close it over here.
Too many unknowns surrounding this one, I would pass on it if I were you.
Remember if you are going to try Forex SSG System that you fully understand how the system works before running it live. I always recommend to use your refund period to test it thoroughly for at least a month. If your results are above satisfaction, then and only then should you consider taking steps to trade it live with your hard earned money. Just because a website says their system will make $xx,xxx a month doesn't mean it's going to. So if you are not satisfied, do not hesitate to request your money back. If you are interested in more information on this forex product then check out the link or any comments below.
If real user reviews of Forex SSG System are what you are looking for, then check the comments below. They are real customer experiences with this product. If there are no comments, then be sure to come back frequently and check for updates as our review and discussion of this product continues to grow.
If you have experience with ForexSSGSystem or know something people might find important please feel free to share in a comment below. It may help someone save or make a lot of money so don't hold back. Because of the influx in forex robots and forex systems being released right now, our reviewing as been slowed but our user comments have not. Make yourself at home and write a comment, or ask a question for the community to discuss. You will be surprised the information and knowledge you may unveil.
If you want to submit a forex trading product or broker that is not listed on our site, please use the Submit A Forex System form or Submit Your Own Articles. There are many private and underground forex robots and systems out there they I just don't have the time to look for. So if you know of any, or a place to find them please feel free to share and I will make a post about it for the community to discuss.
Ok guys lets get the ball rolling, here at ForexFBI we encourage our visitors to discuss your Forex SSG System experiences, strategies, thoughts, whatever…
Forex SSG System Rating