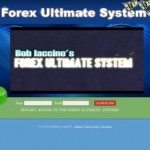 Robert Laccino brings the new forex ultimate system for trading forex with step-by-step videos. This does not appear to be an EA, rather just a course specializing on a certain trading strategy. The course is delivered over a period of 2-3 weeks which to me just seems like a ploy to keep people tied down during the refund period.
If you are a beginner at forex trading, this may be a great course for you to pick up at a reasonable price. Over the shoulder type trading tutorials with great examples of what can happen when things go right and things go wrong. Forex Ultimate System covers the basics of the most common trading strategies, nothing really ground-breaking here.
The course will cover all major currency pairs, and will be easy enough to follow for even the lowest grade beginning traders.
The Forex Ultimate System is being sold through clickbank for for a (to be determined) price with a 60-day money back guarantee.
Check out the Forex Ultimate System Website Here and view a sample of some of these trading tutorial videos to see if it's what you expected.
PS. If you have any experience with this system, feel free to comment your 2 cents.