Details
Currency Pairs:
EURUSD ,
Timeframe:
H1 ,
Price:

$115
,
License:
1 live account,
NFA compliance:
Unknown,
Refund policy:
60 days,
FX-Builder Light Website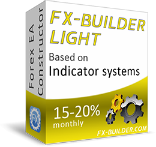 Strategy: The strategy of FX-Builder Light can not be determined at this time, when we figure it out this will be filled in.
Performance

Here is an account but it's not from the vendor of FX-Builder Light, it's better than nothing. Beware, this is not Myfxbook verified, so there is no promise the results are real.
Demo broker: Excel Markets
Start date: July 30, 2013
No customer accounts of FX-Builder Light could be found.
Pros & Cons

Pros
60 day refund period
$115 reasonable price tag
Cons
No official vendor account on Myfxbook
$195 price tag is quite high!
FX-Builder Light Review

Little information is known about FX-Builder Light yet, but that usually means it's crap. We shall revise this when we have something important to say about this product.
Whether it's a scam or not is still to be determined. If you have tried FX-Builder Light then please select a score and write a review with your experience.