Details
Currency Pairs:
GBPUSD, EURUSD ,
Timeframe:
M15 ,
Price:

$199 (Get 50% off with coupon code: 50OFFSPO)
,
License:
1 live account,
NFA compliance:
Unknown,
Refund policy:
60 days,
Volatility Factor v6 Website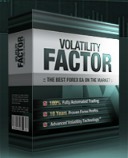 Strategy: Volatility Factor v6 trading style is not known as of yet. I am going to revise this strategy when we figure it out.
Performance

Here is an account but it's not from the vendor of Volatility Factor v6, at least it's something to follow. Remember FXblue.com is no Myfxbook.com, so there is no promise these results are valid.
Demo broker: IC Markets
Start date: November 2, 2014
No customer accounts of Volatility Factor v6 could be found.
Pros & Cons

Pros
It has a 60 day money back guarantee refund policy.
$129 reasonable price tag
Cons
No official vendor account on Myfxbook
$199 (Get 50% off with coupon code: 50OFFSPO) price tag is quite high!
Volatility Factor v6 Review

Volatility Factor v6 is not the greatest robot. It doesn't perform well long term, and it's expensive. How many more reasons do you need to not purchase this product?
This isn't considered a full blown scam just yet. If you have tried Volatility Factor v6 then please select a score and post a review with your experience.