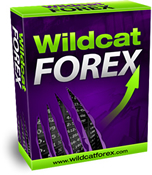 Wildcat Forex is a lesser known forex robot being sold for $69 per month through the RegNow payment processor. The developer is not well known, just like the product itself.
Here is a quote from their site that details a little on how this robot works.
Wildcat Forex Uses Volume in Our Trade Setup and Exits:

Look for volume spikes that identifies whether the market is supporting the price level.
Look for prior support and volume at the price level.For example, was the prior low of day (LOD) or high of day (HOD).
Look at Order Book, which will show all the open orders and order sizes to confirm demand at current levels.
Strategy
The demo account I found had 25 to 46 pips profit with a 180 pip stop loss on a closed pair plus the use of a trailing stop. So while a 180 pip stop loss seems incredibly high, depending on their exit strategy you may have losers closed well before that.
Results
The developer himself does not provide any live or demo proof, just details on how the system works. While I managed to find a few accounts running this robot, most have only been running for under 2 weeks. The best one I could find was a $5000 demo that had a gain of $1100 in 9 days, but also currently has a $400 floating P/L. You will be going out on a limb trying this one out as there are not a lot of publicized results on it, but at least it has the 30-day money back guarantee.
Remember if you are going to try Wildcat Forex robot that you fully understand how the system works before running it live. I always recommend to use your refund period to test it thoroughly for at least a month. If your results are above satisfaction, then and only then should you consider taking steps to trade it live with your hard earned money. Just because a website says their system will make $xx,xxx a month doesn't mean it's going to. So if you are not satisfied, do not hesitate to request your money back. If you are interested in more information on this forex product then check out the link or any comments below.
If real user reviews of WildcatForex are what you are looking for, then check the comments below. They are real customer experiences with this product. If there are no comments, then be sure to come back frequently and check for updates as our review and discussion of this product continues to grow.
If you have experience with Wildcat Forex EA or know something people might find important please feel free to share in a comment below. It may help someone save or make a lot of money so don't hold back. Because of the influx in forex robots and forex systems being released right now, our reviewing as been slowed but our user comments have not. Make yourself at home and write a comment, or ask a question for the community to discuss. You will be surprised the information and knowledge you may unveil.
If you want to submit a forex trading product or broker that is not listed on our site, please use the Submit A Forex System form or Submit Your Own Articles. There are many private and underground forex robots and systems out there they I just don't have the time to look for. So if you know of any, or a place to find them please feel free to share and I will make a post about it for the community to discuss.
Ok guys lets get the ball rolling, here at ForexFBI we encourage our visitors to discuss your Wild Cat Forex EA experiences, strategies, thoughts, whatever…
Wildcat Forex Robot Rating
While they do have responsive support, and a fair price, the lack of 1st party results is a bit alarming. Especially considering this appears to be a signal service where they run a master account and all trades are signaled to all customers (slave accounts). So you would think they would be showing this master account for all customers to compare to. With all that being said, I am going to give this a 5/10 rating as it may have potential, but the developer could be doing a better job with transparency and results.